About
I have been raised in an artistic milieu that helped hone my passion for Bharatanatyam. I trained under my mother Guru Smt. Revathi Ramachandran. After completing a B.Tech degree in Biotechnology from Anna University, I pursued a Masters in Fine Arts Degree in Bharatanatyam (Distance Education) from Sastra University, Thanjavur under Dr. Padma Subrahmanyam. I wanted to develop my interests spanning domains of science, archeology, philosophy and Indic culture through a Masters Degree (M. A.) in Conservation in the National Museum Institute, New Delhi.
'Kadhir Conservation' is my Art Conservation practice that I've set up in Chennai & Bengaluru with like minded individuals. As principal of 'Kala Sadhanalya' I teach Bharatanatyam. To make art available to all stratas of society, I teach dance to underprivileged children in schools across Chennai.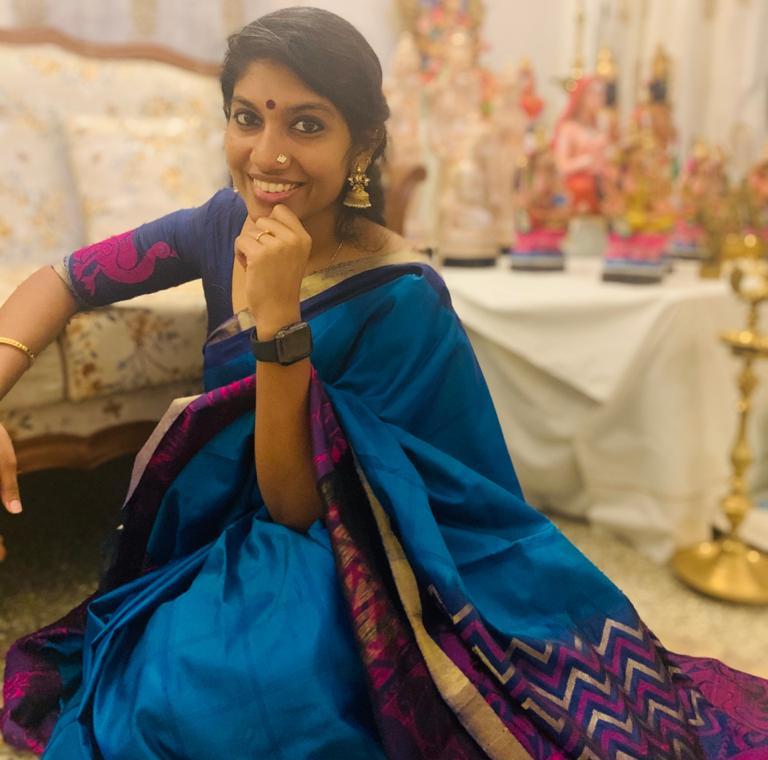 Bharathanatyam Dancer & Art Conservator
Passionate about science, arts, history and Indian Culture. In constant pursuit of knowledge and exciting challenges.
B.Tech:

Biotechnology, Anna University

MFA: Bharathanatyam, Sastra
M.A: Conservation, National Museum Institute
Bharathanatyam:

Revathi Ramachandran

Carnatic Music:Suguna Purushotamman & Gayathri Kamakoti
Seeking opportunities that unite Research and Art.
In numbers
Snapshot of my work
Live Performances India & Overseas
Productions Bharatanatyam and Theatre
Projects Object Conservation & Documentation
Resume
A brief insight into my journey
Sumary
Manasvini Ramachandran
Bharathanatyam, Art, Conservation, Research, Science, History, Music
Education
MASTERS IN CONSERVATION (M. A.)
2018 - Ongoing
National Museum Institute, New Delhi, India
Stood first in class, semesters 2, 3 & 4
Travelled to China to attend a two week programme on Conservation of Wall paintings at North Western University, Xi'an, Shaanxi province
Workshops and Experience
Book binding and book conservation at IGNCA
Mr. Lalit Patak- paper conservation
Mr. Girikumar- Photography conservation
Dr. Vandana Singh- Metal conservation
Ms. Smitha Singh- textile documentation and Conservation
Site visit to Ajanta and Ellora with Dr. Satish Pandey on wall painting documentation and conservation
Paper conservation at the National museum lab
Documentation and conservation of objects in Anthropology at the arms and armour Departments at the National Museum.
MASTERS IN BHARATANATYAM (M.F.A)
2017 - 2019
SASTRA University, Distance Education
A study of time keeping in Indian dance from the Natyasatra to present day and a comparison of Tala systems, under Dr. Padma Subrahmanyam.
Masters Thesis: Aspects of Tala
B. TECH. IN BIOTECHNOLOGY
2011 - 2015
A.C. Tech, Anna University, Chennai
Visiting Students Research Programme, Tata Institute of Fundamental Research (Mumbai) Project at the Department of Biological Sciences under Prof. B. J. Rao.
Bachelor's Thesis: Project at the Department Of Biotechnology, Anna University, under Prof. P. Gautam. Study on 8-Hydroxy Quinoline derivatives and their interaction with Proteins
Professional Experience
Bharathanatyam Dancer
trained in Bharatanatyam from her mother/ Guru Smt. Revathi Ramachandran for over 22 years
Having many titles to her credit including the "Balasraswathy Award" from the Krishna Gana Sabha, "Yuva Kala Vipanchee" from the Vipanchee trust, " Yuva Kala Bharathi" from Bharath Kalachaar, "Natana Bhava Padmam" from Brahma Gana Sabha and "Natya Chudar" from Karthik Fine Arts, she pursues the art with zeal and exuberance.
Manasvini has been under the mentorship of Sri. Sheejith Krishna and has paticipated in his productions "Sadrshyam" and "Ram Katha".
Graded "B" by the Door Dharshan Kendra.
Carnatic Music
Student of Smt. K. Gayatri Prasanna and Smt. Suguna Purushothaman
Noteworthy Productions
Vidhuran Choreographed and performed dance sequence for Chennai's first Mimeshow | Aug 2011
International Dance Alliance, Chennai Performed in Smt. Chitra Visweswaran's Troupe | Aug 2012
Sadrashyam Performed as part of Sri. Sheejith Krishna's, Kalakshetra | Feb 2013
Suguna Margam- Solo Margam of Smt. Suguna Purushothaman's compositions | Sept 2013
Subverse a Theater- Music- Dance presentation directed by Smt. GowriRamnarayan | Aug 2013
Veda Bharathi, Natya Rangam- Narada Gana Sabha. One of four young dancers chosen to choreograph and present Vedantic songs of Bharathiyar at Bharathi illam, Krishna Gana Sabha, Narada GanaSabha and Kalakshetra | Dec 2014
Laya Nirupanam a dance thematic show along with Smt. Revathi. | Aug 2015
Jagat Pāvanī Gangā Assisted Smt. Revathi in production| May 2016
Dolls, Crea-Shakti acted a monologue directed by Dushyanth Guashekar| Sept 2017
Ram Katha, Danced with Sri. Sheejith as a major dancer in the production| Oct 2017
Performances Outside of India
Played Child Muruga in "Om Sharavana Bhava" | Apl- Jun 2004 | USA - 16 cities
Part of workshop series and Production "Lakshmi Vaibhavam" | Apl 2005 | USA- Pittsburgh and Orlando
Perumal Temple Kumbabishegam | Jun 2005 | Singapore
Part of "Om Namah Shivaya", 28 shows | Apl- May 2007 | France and Germany
ICCR tour as a dancer and Nattuvanar | Sept 2012 | Armenia
Was part of Cleveland Tyagaraja Aradhana troupe | April 2017 | USA- 3 cities
Toured Australia with Laya Nirupanam, 4 shows | July 2017 | Australia, Sydney and Brisbane
Jagat Pavani Ganga - Led a team of 12 under the banner of "AIM for Seva" | Sep 2018 | USA, 12 cities
Awards
1st Place - HCL concert series of Music Academy
Natya Chudar- 2017 Kartik Fine Arts,Chennai
Natana Bhava Padman- 2016 Brahma Gana Sabha,Chennai
Yuva Kala Bharathi- 2014 Bharath Kalachar, Chennai
Yuva Kala Vipanchee- 2013 Vipanchee trust
Bala Sarawathy Award- 2007 Krishna Gana Sabha - Chennai
Portfolio
Below is a brief on some of the work I've been fortunate to do:
Research
Research Projects I've worked in
Contact
Here's how you can get in Touch